Tickets West Clare Drama Festival 2023
Doors open | 7.00pm
Curtain Up | 8.00pm
Adults | € 12.00
Season Ticket | € 60.00
Children | € 6.00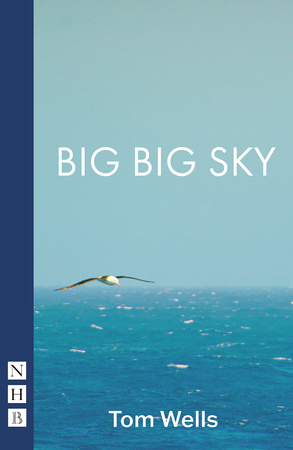 Set in Kilnsea, East Yorkshire, Angie and Lauren are closing up the café for winter; the birds have gone south and taken the tourists with them. The last visitor is Lauren's father Dennis, stopping by for his pasty and beans. But there's another arrival – one that's unforeseen and life changing for them all…..
Bridge Drama's last circuit production came to a sudden stop in March 2020! Since then the group has been busy, producing a film and two plays. The most recent production was Moonglow at the National Opera House in November '22. Based in Castlebridge, Co. Wexford, the group first joined the circuit in 2002. Productions have included Dark of the Moon, Out of Order and Portia Coughlan. Highlights have been the Confined win in 2010 with Same Old Moon and winning in Athlone in 2016 with Lost in Yonkers.
Doors open | 7.00pm
Curtain Up | 8.00pm
Adults | € 12.00
Season Ticket | € 60.00
Children | € 6.00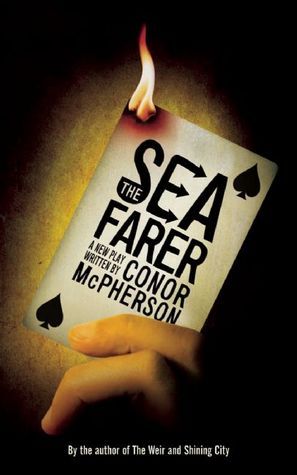 The Seafarer
by Conor McPhearson
It's Christmas Eve, and Sharky has returned to Dublin to look after Richard, his irascible and ageing brother, who has recently gone blind. Sharky, an alcoholic, is battling to get through Christmas without a drink. Richard's drinking buddy Ivan is holed up at the house too. They are joined for a game of poker by Sharky's old love rival, Nicki, who brings along the mysterious Mr Lockhart. In their alcohol induced world they drink, they fight and they gamble. But, with the arrival of this stranger from the distant past, the stakes are raised even higher, as Sharky may be playing for his very soul.
Thurles Drama Group presents two three-act plays yearly in the Source Arts Centre. Over a period of fifty-six years they have produced plays of every genre, and always of the highest quality. The group has recently bought an old cinema/parish hall which has been refurbished into their own drama hall. They are looking forward to the official opening of The Bríd Ryan Drama Centre in 2023. The group has been competing on the three-act festival circuit over a number of years, and have reached the All-Ireland Finals in Athlone on eight occasions.
Doors open | 7.00pm
Curtain Up | 8.00pm
Adults | € 12.00
Season Ticket | € 60.00
Children | € 6.00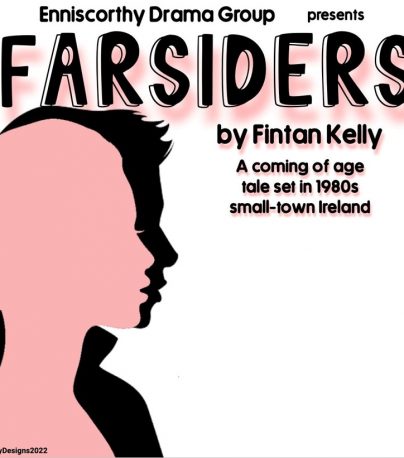 Farsiders
by Fintan Kelly
Set in Enniscorthy in 1981, friends Chopper, Hawk and Red work in the local unemployment office and plan to go to the rugby club disco at the weekend. Chopper fancies Mary but has never had the courage to ask her out. So does Pat Corrigan who has been bullying Chopper since they were kids. Will Chopper finally get the girl of his dreams?
Enniscorthy Drama Group was formed in May 2013 at The Presentation Centre, Enniscorthy, Wexford. We performed our first 2 shows at the Presentation Centre, "The Tinkers Wedding" and "Ritual for Dolls" in September 2013. Since then we have performed many well-known and locally written dramas and have gone from strength to strength.
Doors open | 7.00pm
Curtain Up | 8.00pm
Adults | € 12.00
Season Ticket | € 60.00
Children | € 6.00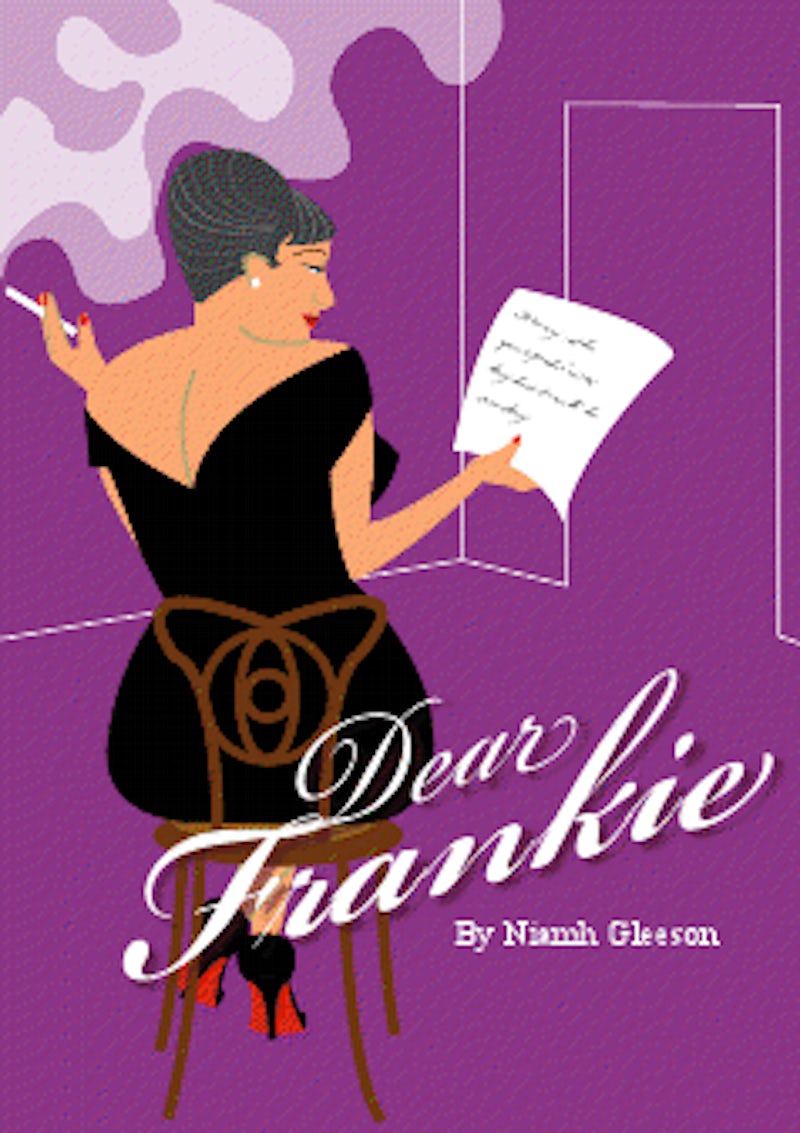 St Patrick's Drama Group, Westport
Dear Frankie
by Niamh Gleeson
For over twenty years Ireland tuned in as Frankie Byrne solved the problems of the nation at lunchtime on Radio Eireann. Lovelorn teenagers, jealous husbands, concerned mammies, all write in looking for an answer to their problems. This by turns, hilarious and poignant play, tracks the life of this glamourous and popular Irish figure as she considers the burning social issues of the time – all the while concealing deep sorrows in her own life.
Founded in 1964, our motto is "drama for the fun of it". We have staged numerous productions annually since our foundation, and have travelled extensively throughout the UK and USA to packed houses. We are new to the festival circuit.
Doors open | 7.00pm
Curtain Up | 8.00pm
Adults | € 12.00
Season Ticket | € 60.00
Children | € 6.00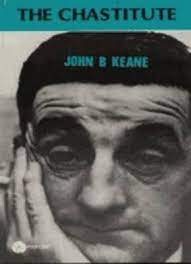 Castlewood Players, Cratloe
The Chastitute
by John B Keane
John Bosco McLaine is a Chastitute – a bachelor farmer who is celibate by circumstance. The play tells the story of his endeavours to find a mate.
Castlewood Players have presented drama around Clare since the early 1980's, participating in the All Ireland Drama Circuit since the late 80's and qualified for the Finals on eight occasions.
Doors open | 7.00pm
Curtain Up | 8.00pm
Adults | € 12.00
Season Ticket | € 60.00
Children | € 6.00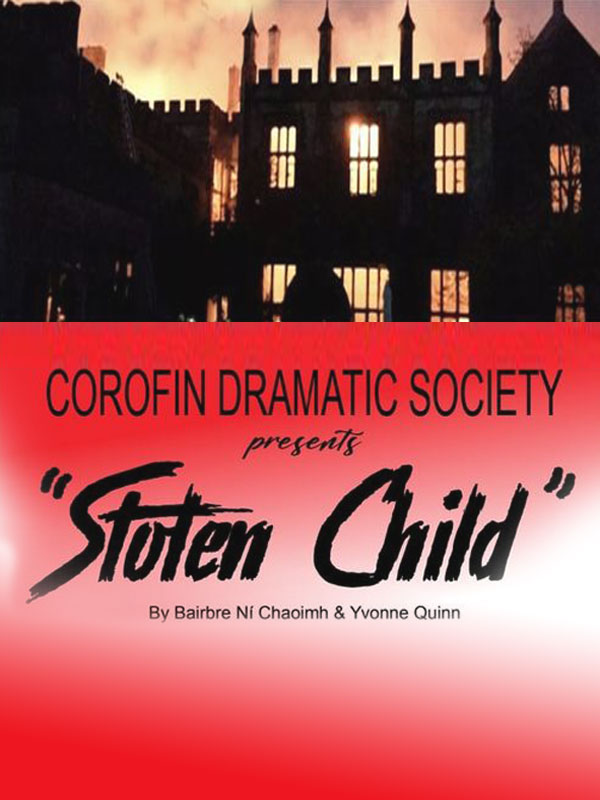 Stolen Child
by Yvonne Quinn & Bairbre Ní Chaoimh
Set in 1990, this humorous yet moving play tells the story of a woman adopted at birth who enlists the help of a colourful private detective to search for her mother and uncover the secrets of her family history. What begins as a personal odyssey for Angela Tierney to discover her past, soon becomes a fascinating exploration of one of the darkest chapters in the history of modern Ireland.
Corofin Dramatic Society has a long proud theatrical history. Founded in 1950, we continually strive to improve our dramatic standards. A major milestone occurred in 2008 when we won the All-Ireland Confined Final with our production of The Beauty Queen of Leenane by Martin McDonagh. A long-time ambition was achieved in 2012 when we thread the boards of the Dean Crowe stage in Athlone with The Subject was Roses by Frank D. Gilroy. We were placed 3rd that year (no mean achievement for our first appearance). We have contested the final on numerous occasions since but have failed to scoop the top prize. To this end we continue to strive.
Doors open | 7.00pm
Curtain Up | 8.00pm
Adults | € 12.00
Season Ticket | € 60.00
Children | € 6.00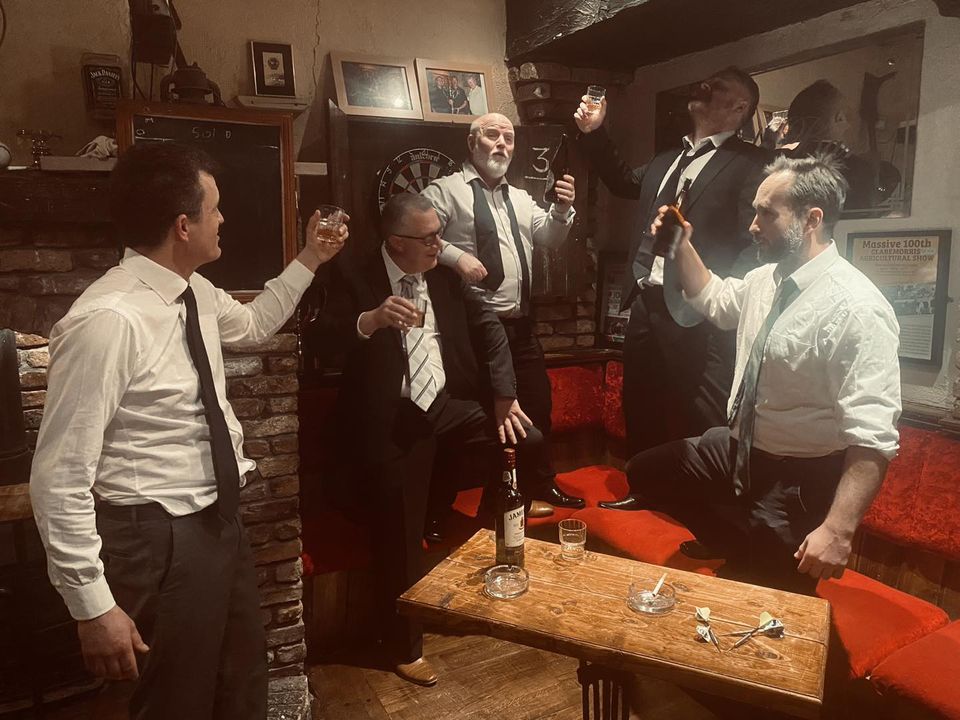 The Kings of the Kilburn High Road
by Jimmy Murphy
In the mid-1970s, a group of young men left their homes in the West of Ireland and sailed across the sea to England in the hope of making their fortunes and returning home. Twenty-five years later only Jackie Flavin makes it home – but does so in a coffin. The play takes place on the day that the winners and losers of the group meet up to drink to Flavin's memory and looks at their lives and lost dreams. Secrets are revealed and lies are uncovered.
Leonard Players was established to honour and perpetuate the memory of the late, great Ray Leonard, who was synonymous with drama in Claremorris throughout his life. Ray was a director, producer and mentor who made an outstanding contribution to drama, musicals and stagecraft. The group hopes to continue Ray's great reputation in the drama world. In keeping with Ray's deep sense of community the group have, this year, formed a unique collaboration with Claremorris Men's Shed who have designed and built the set for this play.
Doors open | 7.00pm
Curtain Up | 8.00pm
Adults | € 12.00
Season Ticket | € 60.00
Children | € 6.00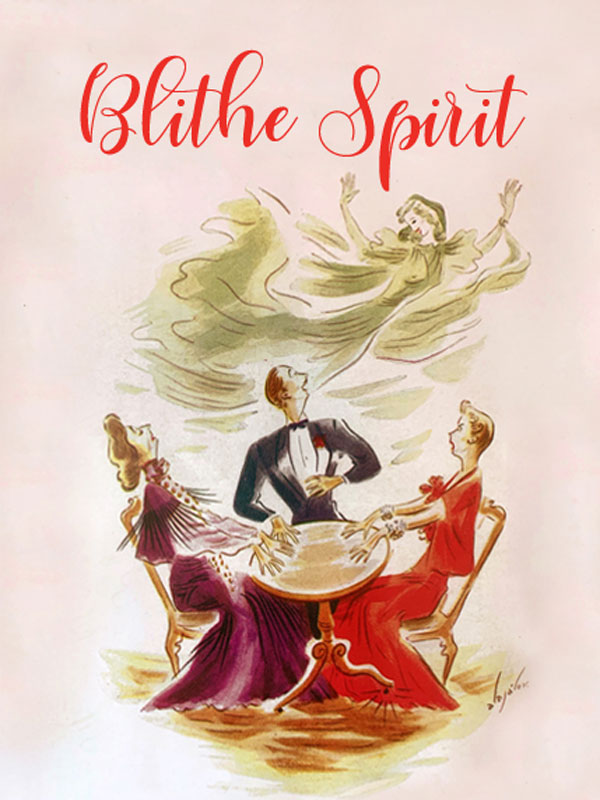 Blithe Spirit
by Noel Coward
The play "Blithe Spirit" concerns the socialite & Novelist Charles Condomine, who invites the eccentric medium & clairvoyant Madame Arcati to his house to conduct a séance, hoping to gather material for his next book. The scheme backfires when he is haunted by the ghost of his wilful and temperamental first wife, Elvira, after the séance. Elvira makes continual attempts to disrupt Charles' marriage to his second wife, Ruth, who cannot see or hear the ghost.
The group is based in Rossmore, West Cork & is one of the longest established groups in the Country, regularly competing in the 3-Act & 1-Act circuits.
Doors open | 6.30pm
Curtain Up | 7.30pm
Adults | € 12.00
Season Ticket | € 60.00
Children | € 6.00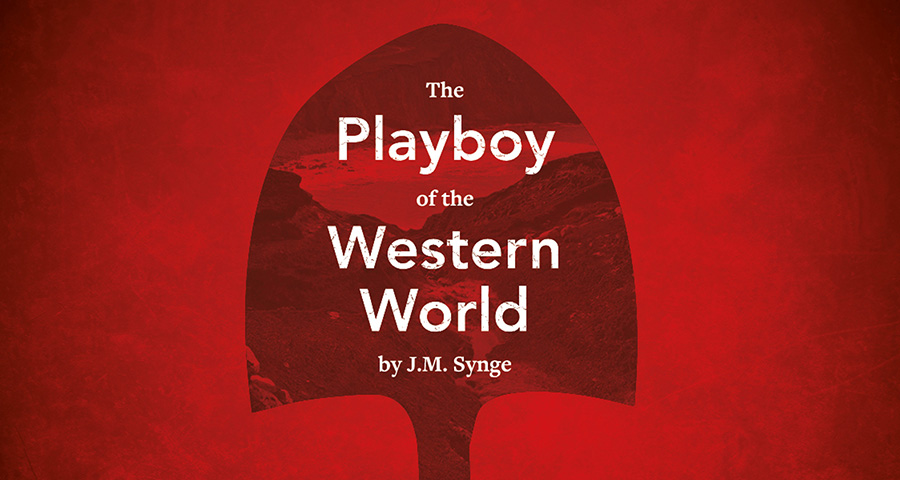 Playboy of the Western World
by John Millington Synge
Christy Mahon's arrival in a Mayo shebeen creates a stir when his confession to murdering his tyrannical father wins him a hero status among the locals, and the heart of the publican's daughter, Pegeen, only for his fortunes to turn when his very much alive father shows up in the village seeking out his 'good for nothing' son.
Hinterland is a brand new touring community theatre project created by Robert Power, with the aim to bring theatre out into towns and villages around Ireland. It is made up of a mix of new and experienced performers and theatre makers from Tipperary and its hinterlands in the South East of Ireland. The group received a fantastic reaction to their first production, J.M Synge's The Playboy of the Western World, last summer, which included a live traditional music accompaniment. They performed to packed audiences in towns and villages around Tipperary, Waterford and Kilkenny and finished on Inis Meáin in the Aran Islands, a place of great inspiration to the writer. The incredible reception has encouraged the group to remount the production in 2023 and head out on tour again, with a run of dates which will also include 8 different festivals around the country on the RTÉ All Ireland Drama Festival.
ADJUDICATOR 2023
Irene O'Meara
Many of you will be familiar with Irene on the Drama Circuit as she adjudicates at One Act and Full-Length Festivals. She particularly likes meeting the hard-working groups to discuss the fruits of their labour & their driving force for their chosen production. Her experience in acting, directing, Stage Management, Costume & Set Design affords her a balanced perspective of productions.
Irene has been facilitating and designing courses for over twenty years in the areas of Acting, Directing, Ensemble work as well as Drama Therapy, Expressive Arts, Process Drama & Integrated Arts. She enjoys working with groups in education as well as performance where the introduction of new concepts, active learning & skill enhancement are all part of the bigger picture whereby participants are given a sense of ownership of their craft and authenticity. She draws from many practices and influences when exploring subject matter, utilising a broad, multi-disciplinary approach.
She has worked in the Drama Department of Mary Immaculate College and currently works with Hibernia College in the area of Arts & Literacy. She delivers courses/workshops with Education Centres, Baboró International Children's Festival, Earthfest, Earthsong, One World Centre, Youth Groups, Play Therapists, Drama Groups etc. Other areas of her work are running Harmonic Singing workshops, choreography, textile craft & teaching in a Primary School.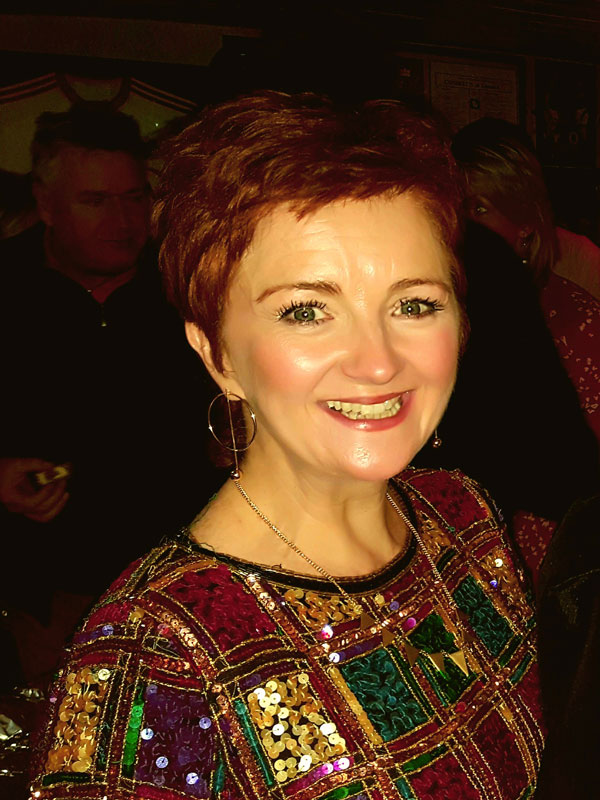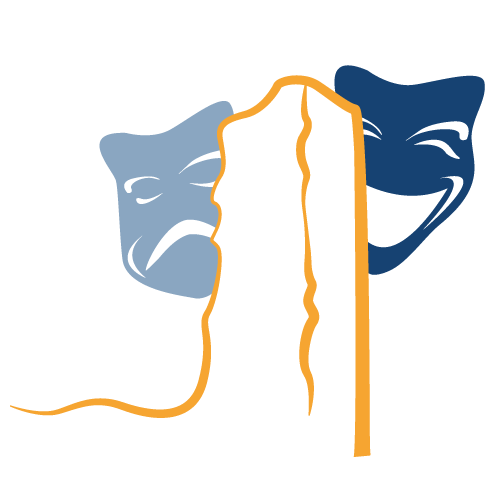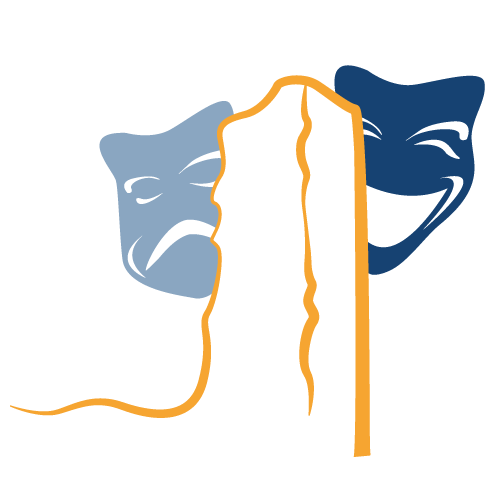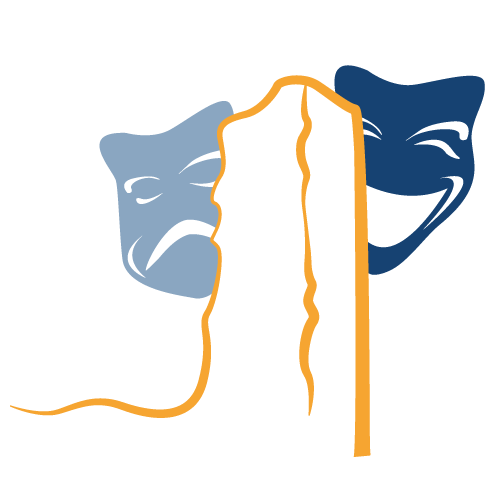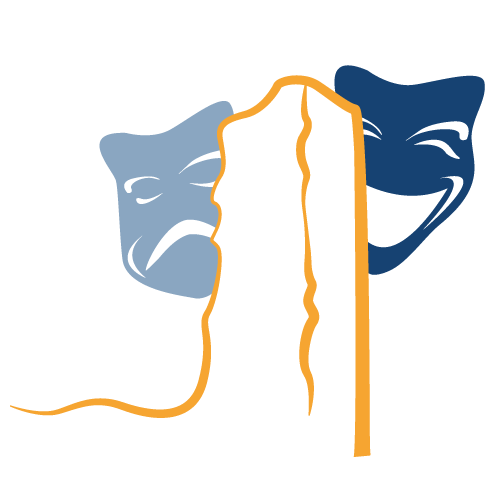 Located in the heart of West Clare, Doonbeg is a beautiful, picturesque village with plenty to offer.
From the magnificence of the world renowned Doonbeg Golf Club, to our acclaimed sandy beaches, with the vibrance of many festivals & events, Doonbeg has everything to meet your needs. Please take the time to explore www.doonbeg.info, to find out more about our village, you won't be disappointed!!